IMPORTANT- We've changed our affiliate platform to e-junkie on May 29, 2020. If you signed up before this date, please update your affiliate links. 
Join the Affiliate Email List
If you haven't already, please join mailing list below so you can be included and get email updates. If you joined the mailing list in the past, no need to sign up again.

You're invited to join our exclusive No Prep Yoga Plan Affiliate Program and be part of an amazing community of professionals.
If you are a yoga instructor, owner of a yoga studio, or simply have a strong passion for meditation or christian-based yoga, we highly recommend that you join!
As part of the Affiliate Program you will have instant access to:
Marketing Guide on how to effectively use digital marketing to promote NPYP.

Banner

ads, email marketing letter, and other affiliate tools.

Opportunity to network with other successful yoga professionals

Earn 12% commission of any products purchased through your affiliate links.
Here are SEVEN quick and easy ways you can promote NPYPs and partner with us:
EMAIL PROMOS: Share NPYPs to your email audience. We have already created some email letters that you can use as is or modify. Or, if you like, create your own.
BANNER ADS: Place one of our banner ads on your website, Instagram page, Pinterest board, or even share it with your Facebook page/group.
VIDEO REVIEW: With the free copy you'll receive just for partnering with us, share a live video highlighting what you love about NPYP and post it to your youtube challenge or FB page.
BLOG IT: Post one of our informational articles to your site and then place a banner ad and/or link at the end of the article. You'll find articles in our affiliate section.
TESTIMONIAL: Do a favorable, but authentic NPYP testimonial sharing what you like about NPYP and how it can benefit other yoga teachers. We will add it to our website with your picture of course.
PROMO VIDEO: Post one of our NPYP promotional videos to any of your social media accounts.
SOCIAL: Share a message and link to NPYP on your Twitter, Snap Chat, or other similar social media account.
NEWSLETTER: If you have a regular newsletter, add a banner ad or even a short promotion about NPYPs.
BLOG REVIEW: Write an blog post reviewing and highlight various parts of No Prep Yoga Plans and then post it to your website with a link to NPYPs. 
Instagram Posts and Stories: See graphics below.
We recommend TailWind for managing your social media accounts. Use this link to get a free month.

More Quick, Easy & Effective Ways to Promote NPYPs
FYI- As stated in the Affiliate Marketing Handbook, it's best to choose 1-2 marketing methods and create an ongoing strategy around them for long-term success. Below are just a few promotional ideas just show you the possibilities. My best recommendation would be to download and read the Marketing Ebook above, and then decide the best media platforms for you. 
11-Quick and Easy Promotional Ideas:
Send 4 promotional emails to your email list (mail chimp, aweber, etc.) 

Create a heartfelt review or testimonial either written with picture or video. 

Place two of our banner ads in the side widget of your website or post to your pinterest board instagram page, or FB page/group (with affiliate link).

Add one of our NPYP blog posts to your website with a clickable banner ad or hyperlink at the end. 

Do a NPYP shout out on Twitter! 

Place two of our banner ads in two of the following: the side widget of your website or post to your pinterest board, instagram page, or FB page/group.

Talk about NPYP in a live or recorded FB or Youtube video.

Post one of NPYP promo videos on your FB page.

 Send one promo letter to your email audience. 

 Create an Pinterest pin linking to one of the articles below, that you have posted on your blog.

Share NPYP in your next newsletter. 
Learn How to Create a NPYP WebPage in Less Than 30 Minutes! (Video)
You can see the page I created using Elementor, a free web-builder plugin for WordPress by CLICKING HERE. 
You don't have to use Elementor to build a web page or post, but in case you want too, see this quick video on how to add Elementor to your WordPress website; it's free. CLICK HERE. 
FYI- Once you've created your page, don't forget to enhance it by adding your title, description, and keywords into SEO in Yoast or All-In-One-SEO.
Two ways to create sidebar widgets for banner ads or graphics and hyperlinks.
How to promote with Pinterest (Use the same method with other forms of social media as well.)
Affiliate Banner Ads and Photos
FYI– With the new affiliate program, you can also access these banners from your personal affiliate page once you log in. These will already have you unique affiliate ID. Affiliates earn 8% for every product they sale whether it is an ebook or a hard copy.
If you have your affiliate code and know how to do a hyperlink, you can also right click and "save as" to download to your computer. If you are added as a widget on your blog, just go to widgets and select image, next upload the banner ad you want to use, then add your affiliate code where indicated in the widget area.
Want to create your own or have them created for you? Use tools like Canva.com or even Fiverr.com.
CLICK HERE FOR MORE PROMOTIONAL PHOTOS. Use these photos to create your own graphics, ads, and promos.
Instagram Posts
Create more of your own using Canva.com! To use graphic images just right click and save to computer.
Pinterest Posts
Create more of your own using Canva.com! To use graphic images just right check and save to your computer.
Email & Text Promotional Messages
Click on image to get text or email promotional message.
Email # 1
Email # 2
Email #3
Email # 4
Email # 1
Subject: Thank You
Congratulations! You're on your way to creating your very own faith-based and inspirational yoga course.
Step 1-Done (insert check mark symbol)
Thank you for downloading (affiliate name) "No Prep Yoga" sample e-book. This introductory e-book provides you with a preview of our comprehensive curriculum.
Step 2- Invest in your dream career! (link to site to purchase)
We understand that the road to becoming a yoga instructor is a journey, and we are here to help with our fully customizable and ready to use guides.
"No Prep Yoga" takes yoga and transforms it into a Christian-centered and faith-based experience. With the use of biblical scriptures this course was designed to renew your mind, body and soul.
Buy Now (include link to site)
Your investment will include:
No Prep Yoga Book

Printed Book with Binders & Custom tabs

Yoga Studio license (includes e-book & printed with binder)

Bonus! If you purchase before (enter date) you will receive (enter promotional deal)
The time is now, to learn more visit NoPrepYogaPlans.com and for more information visit our website (insert affiliate website).
Email # 2
Email #3
Email # 4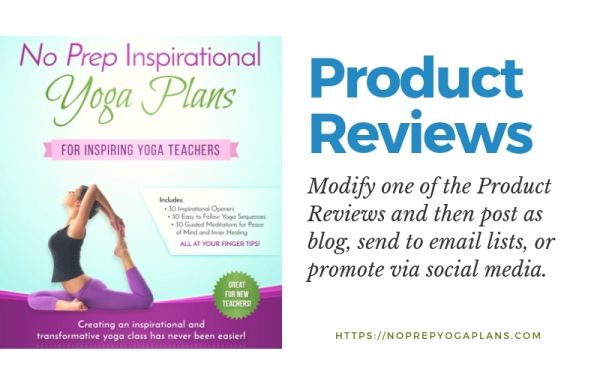 Blog Post Product Reviews

Create a blog post using the reviews and personalize or modify it.To use the graphic images just right click and save to your computer.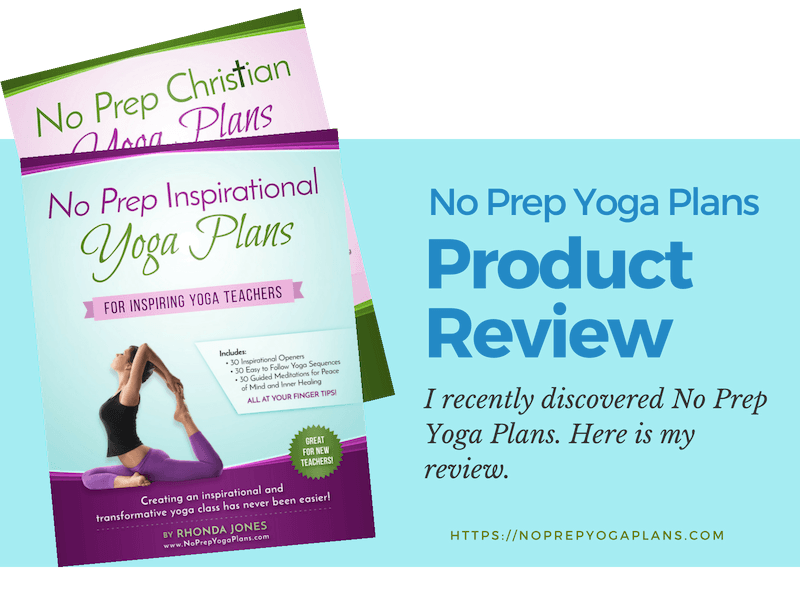 No prep yoga plans Product Review
No Prep Yoga Plans is a company that makes manuals for yoga teachers that, as the name suggests, require no preparation. It offers an inspirational' version as well as a aith-based' version, both of which are available as eBook or hardcopy. 
Both versions include 30 openers, 30 guided meditation scripts, over 30 yoga sequences and more. An instant-access eBook of either version will cost you $97, a hard copy is also available at $137. There is also a $137 eBook to get both copies. How good is it?
As many of you yoga teachers will also have experienced, starting as a yoga teacher can be quite difficult. In many cases the training doesn't seem to provide enough information to get started, which can make you very nervous. That's where No Prep Yoga Plans comes in: 265 pages of openers, meditations, sequences and more that give you references and tips for your next yoga class. 
I recently started using the Faith-based No Prep plan and I have to say it lives up to its name. If I would have to give a yoga class right now, I could open the book and start going right away. 
The openers give you prayers and scriptures and have you set an intention for your practice. The prayers are very inspiring and perfectly set the mood for the class. I also really like the idea of setting an intention because it gives a shared goal for everyone in the class and creates a special connection in the group. For almost everyone this will make the class a better experience. 
Of course the book also gives you yoga sequences. The difficulty varies a bit, but as a yoga teacher with some basic training you will have no problems doing and teaching these poses. Once again, the book lives up to its name: I could do and teach the poses without any preparation. I just picked a sequence and started. 
The book also covers a lot of meditations, all of which have a certain theme or themes. I like to use these themes to create a red line in my sessions. By combining it with a sequence and a fitting opener I can make my classes flow towards a goal, which works very well. Since the meditations are completely scripted, I once again need no preparation to do it! It even gives me hints at when to pause and how to speak, so there is almost no way to do it wrong, especially since the texts are very inspiring. 
All in all, No Prep Yoga Plans offers inspiring ways to teach yoga. You can buy it at http://NoPrepYogaClasses.com. A free sample is also available at the website. If you are a yoga teacher looking for a way to improve your classes or if you just want some inspiration for your next session, the No Prep Yoga Plans are the way to go for you. Because of the way the book is written, it is also great for new teachers. And you won't have to prepare a thing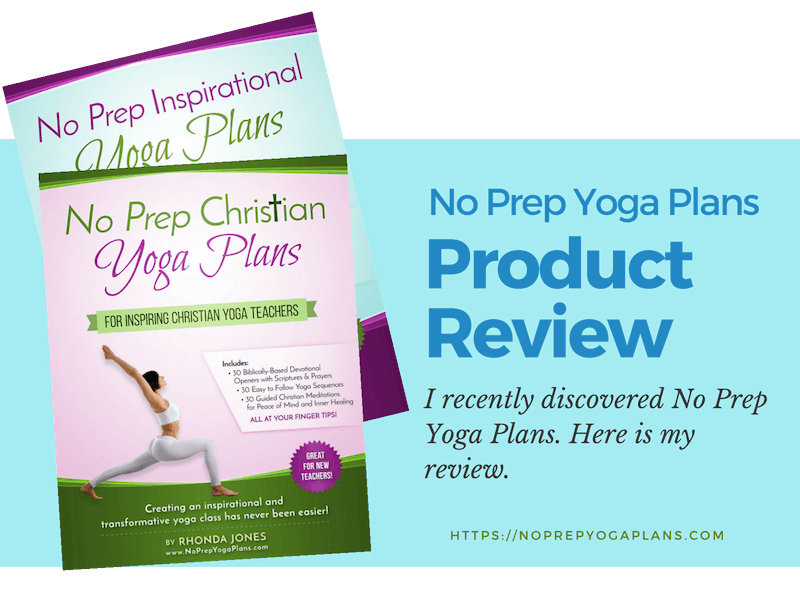 Introduction.
Personally, I used to have worries on how and when to prepare Yoga sequences for my class since I was always held up and too busy to make time. Sometimes I would end up cancelling a class just because I didn't prepare adequately and felt like I would deliver less than expected. This affected both me and my students adversely, and so I decided to search online for any already prepared Yoga plans. The ones I found were so vague and costly, they were the complete opposite of what I needed, and I nearly gave up on the whole idea.
One afternoon I started perusing through the internet trying to find a solution to my problem. I wasn't looking that hard, all I was doing was skimming through the web pages. After an hour or so I bumped into something that caught my eye, No prep yoga plans. I became excited, I stopped, recollected myself and started going through the webpage reading each and every word. The more I read, the more it became very interesting, they had exactly what I needed for my Yoga class.
They had amazing faith-based motivational openers, yoga sequences and inspirational scripts. I was very impressed. The best part is that I got all these absolutely free without spending a dime all thanks to their free sample of No prep yoga plans. I quickly contacted my students and rescheduled all the classes I had missed. No prep yoga plan saved my life!
What to expect from No prep yoga plans
There are so many amazing activities featured on No prep yoga plans; these activities will ensure that your class is both active and disciplined throughout the Yoga session. They include:-
Motivational openers
No prep Yoga plans will give you detailed motivational class openers that will jog your student's minds and keep them alert. These motivational openers are also very essential for their spiritual growth. I always add some of my ideas as well as some scripture verses to keep the session alive and interactive. This helps my students to quickly get into the Yoga mood before we begin the days' sequence.
Yoga sequences
No prep Yoga plans have more than thirty Yoga sequences; this always gives me an easy time since am sure I won't run out of options. The sequences are very involving, and my students tend to enjoy the class more than they used to.
No prep faith guided meditation
I have never seen such an inspirational meditation in my life, ever! No prep Yoga plans give some of the best faith guided meditations that have been very helpful to both me and my students. At the end of the day, I am sure my student's faith has been restored as well as their body and mind.
No prep yoga plans have made my life easy and my yoga classes interesting. I no longer cancel classes, and I never run out of yoga sequences to teach my students. The inspirational meditations are just amazing and very helpful. Get your free No prep yoga plan sample and transform your teaching experience.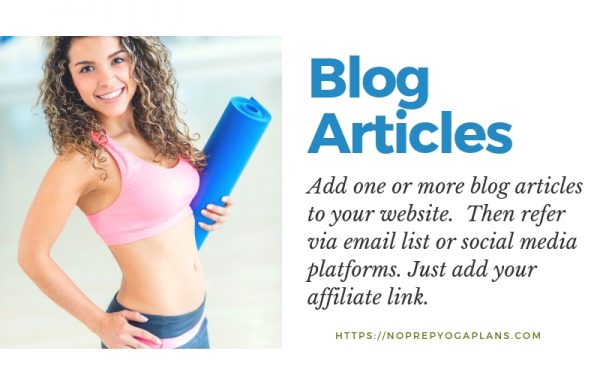 Blog Articles & Graphics for your Website (and Social Media)


Please Note: We recommend creating new graphics or images for the articles or posts. Canva is a free graphics building website you can use. Just google it. You can also get royalty free photos on pixabay and unsplash. 
Promote No Prep Yoga Plans with Video